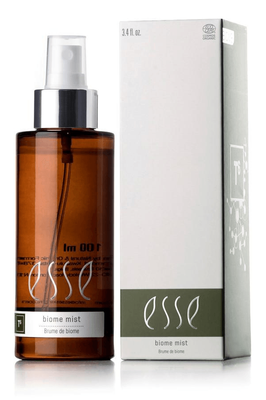 Esse - Biome Mist 100ml
$89.00
**NEW PRODUCT**
Probiotic defence mist for all skin types -
A hydrating probiotic mist. Inactive Lactobacilli promote skin's innate immune function and maintain barrier function. Prebiotics are added to provide a nutrient source that favours a healthy skin ecosystem.
BIOME+ LEVEL 3 FORMULATION means this product contains tyndallised Lactobacillus bacteria that are capable of docking onto skin cells.
Hydrates, refreshes and improves skin vitality.
Visible improvement in vitality is often noted after two weeks of twice- daily use.
Repairs and protects.
Reduces inflammation.
Improves firmness and elasticity.
Application:
Spritz onto face and décolleté after cleansing. Gently pat area until dry and apply Esse moisturiser. Apply throughout the day to freshen and invigorate.
SKU: BM